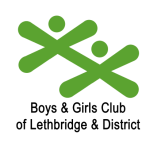 Now Hiring - Children's Services Supervisor
The Boys & Girls Club of Lethbridge & District is seeking a full-time Children's Services Supervisor for the Kinder Club South location, responsible for managing and delivering all programming needs related to the Kinder Club South site, with the assistance and support from a dedicated team of Child and Youth Care professionals committed to creating an engaging, safe space for children in our community.

The Children's Services Supervisor is responsible for such tasks as managing and scheduling team leaders, volunteers and students and assisting with the creation of all plans and budgets for all activities with children. The Children's Services Supervisor will ensure that all licensing and accreditation standards meet or surpass regulated standards.

The Children's Services Supervisor will be diligent in their commitment to the safety and success of children and staff. They will be innovative and engaging with programming and in relationships with staff and supervisors, and be passionate about providing quality care for children.

The Children's Services Supervisor reports directly to the Children's Services Director, and is part of the Leadership team of the Boys & Girls Club.

A full position description is available upon request.

Minimum Qualifications



Education and/or experience equivalent working with children in social or recreational settings
Excellent communication and interpersonal skills
Strong time-management skills
Ability to lead by example
Accuracy and attention to detail
Minimum Child Care Supervisor Certificate (Level 3)
Clear Criminal Record and Child Intervention Checks
CPR/First-Aid
Class 4 Drivers License


Expectations:



Works 9:00am – 6:00pm Monday – Friday, with 1 hour lunch break, with occasional nights or weekends for Club fundraisers or special events
Ensures the program outcomes are planned, met and evaluated regularly
Ensures program delivery and administration meets or exceeds licensing and accreditation requirements
Ensures all team leaders are performing according to the expectations of their position and that they have the proper documentation and training to do their jobs effectively

Salary will be commensurate with experience and qualifications.


To apply to this position, please email your resume and cover letter to Children's Services Director Sheena Gunness at sheena@bgclethbridge.com Applications will be accepted until Sunday February 22nd. Only those chosen for an interview will be contacted.




Make a Difference. Love Your Work.