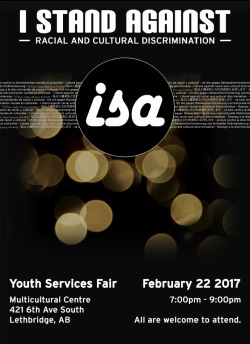 For years, the Boys & Girls Club of Lethbridge has been a supporter of the national initiative known as Pink Shirt Day. On the last Wednesday of every February, people in schools and communities around the country wear pink shirts in solidarity to stand against bullying.
Four years ago, a similar idea homegrown in Lethbridge, turned into a movement now known as I Stand Against (ISA).

ISA is an annual youth services fair that focuses on one area of abuse that affects youth in Lethbridge. In the past, ISA has set it's sights on bullying, cyber abuse, and LGBTQ+ abuse and discrimination, with the goal of helping youth and community members be aware of the organizations and agencies that can support them.

On February 22, 2017 the event will focus on Racial and Cultural Discrimination.

This year's campaign is going to be a combination of celebrating the diversity of southern Alberta, acknowledging the racism and discrimination that still very much exists, educating those who need information or are unaware, and finally providing youth/community members with connections to organizations that offer support systems and advocacy for human rights.

Everyone from the community is welcome to attend this FREE event. There will be youth speakers, food, TONS of door and raffle prizes, engaging tables by youth serving organizations, and things to do.

Transportation from the North AND West side will also be available.

Show your support by uploading a photo of "I Stand Against" written on the back of your hand to social media. Hashtag #istandagainst and be entered to win our grand prize to be presented at the event!

Join us on February 22/2017 from 7-9pm at the Multicultural Center (421 6 Ave S, Lethbridge, AB) to show your support of a diverse, accepting, and safe Lethbridge.

Stand with us against abuse and discrimination.


---