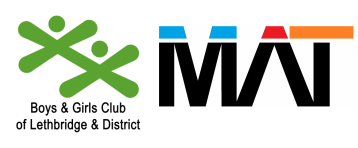 Now Hiring - Youth & Education Leader
The MAT Youth Centre
Part Time, Temporary

Please note that this is a temporary relief position for the month of May 2016. A contract in this position will expire, or have the potential for renewal in June 2016. The successful candidate and the Youth Services Director will meet in early June to discuss whether or not a contract will be modified contingent on the program's needs.
Reporting to the Youth Services Supervisor & Education Manager, you will be responsible for assisting and leading all activity and program related needs for youth aged 11-18. The Youth & Education Leader ensures excellence of program delivery by volunteers and students. Bring your energy, compassion and experience in working with youth to a fun and dynamic team environment.
The Youth & Education Leader will work in two programs: the Youth Drop-In and Rogers Raising the Grade. Hours are Monday 3-10pm, Tuesday 3-10pm, Thursday 3-10pm (21 hours per week). Youth Drop-In is a recreational group program hosted by staff and community volunteers providing a safe, dynamic space for youth. Rogers Raising the Grade is an after-school program assisting high school students discover their interests, shape their career goals and future, and succeed academically.
Responsibilities
- Supervise and help manage youth and volunteers in all aspects of program delivery
- Work with youth to ensure we are meeting their specific needs and provide support
- Assist in planning programs and activities suitable to youth needs
- Leading activities and various youth programs
- Assist in promoting youth related programs through social media, video, and outreach
Requirements
- Some post-secondary education or experience in Education
- Strong commitment to young people, understanding of factors impacting youth lives
- Ability to provide reliable support to young people in times of stress and act with integrity
- Good organizational and leadership skills, while working individually or as a team
- An accepting and non-authoritarian approach
- Excellent communication and interpersonal skills, with the ability to establish good relationships with young people and adults
- Patience, tolerance and flexibility
- Formal communication skills for presentations, and report writing
- Ability to treat young people's concerns with respect, tact and sensitivity, whilst always being aware of the limits that are required by confidentiality and the necessary boundaries
- A great deal of resilience, contagious energy, and willingness to try new things
- CPR/First Aid and a Class 4 Drivers license would be an asset
Hours are Monday, Tuesday, Thursday 3-10pm.
Position compensated at $14/hour.

Submit resume and cover letter to Byron at youthdirector@bgclethbridge.com by 5pm Friday April 15, 2016.​ We thank all applicants for their interest, however only those selected for an interview will be contacted.
Make a Difference. Love Your Work.