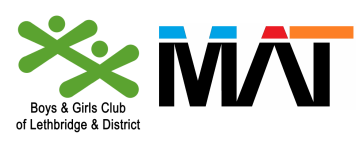 Now Hiring - Youth Leader – Programs
(The MAT Youth Centre)
Part Time, Permanent
We have an exciting part time opportunity for the right individual to join our excellent team at The MAT Youth Centre –located at the Boys and Girls Club of Lethbridge and District.

Reporting to the Youth Services Supervisor, you will be responsible for assisting all activity and program related needs for youth aged 11-18. The Youth Leader ensures excellence of program delivery by volunteers and students. Bring your energy, compassion and experience in working with youth to a fun and dynamic team environment.

Responsibilities

-Supervise and help manage youth and volunteers in all aspects of program delivery.
-Work with youth to ensure we are meeting their specific needs and provide them with ongoing club support.
-Assist in planning programs and activities suitable to youths needs
-Leading activities and various youth programs
-Assist in promoting youth related programs through social media, video, outreach and volunteer fairs

Requirements

-Some post-secondary education in a social and/or educational and/or youth related field
-Strong commitment to young people and an understanding of the factors affecting their lives
-Ability to provide reliable support to young people in times of stress and act with integrity
-Good organizational and leadership skills
-An accepting and non-authoritarian approach
-Ability to work independently and as part as a team
-Excellent communication and interpersonal skills, with the ability to establish good relationships with young people and adults
-Patience, tolerance and flexibility
-A sense of adventure and willingness to try new things
-Formal communication skills for presentations, and report writing
-Ability to treat young people's concerns with respect, tact and sensitivity, whilst always being aware of the limits that are required by confidentiality and the necessary professional boundaries
-A great deal of resilience and contagious energy
-CPR/First Aid and a Class 4 Drivers license would be an asset
-Work Monday to Thursday (occasional weekend during summer) with the majority of hours taking place in evening hours.

To apply for this opportunity, please submit your resume and cover letter via email to Byron Dent, Youth Services Director at byron@bgclethbridge.com. Or drop it off in person at the Boys & Girls Club (North Side Location) at 1405 8th Ave N. Applications will be accepted until 9am January 19, 2014. Only those chosen for an interview will be contacted.


Make a Difference. Love Your Work.